The Queen to become UK's first monarch in history to celebrate Sapphire Jubilee
Erzsébet királynő 65 éve lépett trónra. Milyen rekordot döntött még meg? Hogyan ünnepel? Olvasd el a cikkben és nézd meg a videót!
The Queen is preparing to make history on Monday 6th February when she becomes the first British monarch to reach her Sapphire Jubilee.
On February 6 - the anniversary of the day she became Queen - Elizabeth II will have reigned for 65 years.
She became the Queen of England in 1952 after her father George VI, who was suffering from lung cancer, died unexpectedly, in his sleep at Sandringham.
At the time, a 25-year-old Princess Elizabeth was thousands of miles away in Kenya with her husband.
Philip broke the sad news to his wife while they were alone.
Lord Charteris, her then-private secretary, remembered seeing her seated at her desk in the Lodge appearing "very composed, absolute master of her fate".
Asked what name she wished to use as Queen, she is said to have replied simply: "My own name, of course."
The Queen often spends Accession Day privately at Sandringham and this year is not expected to be any different.
There are no big festivities planned to mark the occasion but a range of commemorative coins have been designed.
The Royal Mint will mark the 65th anniversary with a range of specially designed Sapphire Jubilee coins in a range of metals and denominations from £5, £10 and £500 to £1,000.
The recommended retail prices for the commemorative coins range from £13 for the brilliant uncirculated £5 piece to £49,995 for the £1,000 UK gold proof kilo coin.
All the coins feature the Queen's image in profile on the main side but the £5 range has the imperial state crown on the reverse, and an excerpt from Princess Elizabeth's famous speech where she dedicates herself to her future role as Queen. It reads: "My whole life, whether it be long or short, shall be devoted to your service."
The Queen, who on February 6 marks 65 years since her accession, became Britain's longest reigning monarch in 2015. She overtook the previous record set by her great-great grandmother Victoria at around 5.30pm on September 9, 2015, at the age of 89 - having been head of state for 23,226 days, 16 hours and some 30 minutes. At 90, she is also the world's oldest monarch and, following the death of the king of Thailand last year, the world's longest reigning living monarch.
Queen Victoria
Victoria's reign of 63 years and 216 days saw great economic, social and political change. She was Queen at the age of 18 in 1837 and her time on the throne spanned the rest of the century. She became the figurehead of a vast empire.She married Prince Albert and had nine children, but mourned Albert's early death for the rest of her life. She was in ill health by the time she reached her Diamond Jubilee in 1897 and died in 1901 at the age of 81.
George III
George III reigned for 59 years and 96 days - missing out on his Diamond Jubilee by around 10 months. But for the last nine years of his life, he was declared mentally unfit to rule, and his son the Prince of Wales - later George IV - acted as PrinceRegent. George III is widely remembered for two things: losing the American colonies and his so called "madness" - although he is now actually thought to have suffered from a hereditary physical disorder called porphyria. He died in 1820 when he was 81.
James VI of Scotland
James VI was King of Scotland for 57 years and 246 days. His mother Mary, Queen of Scots, was forced to abdicate in favour of her infant son in 1567 when James was one. He took full control as a teenager. He also later became King James I of England and Ireland when Elizabeth I died, and was the assassination target of the Guy Fawkes gunpowder plot. He was nicknamed "The Wisest Fool in Christendom" and was the father of Charles I.
Henry III
Henry III ruled for 56 years and 28 days. The 13th-century king was only nine when he became monarch in 1216. The country was ruled by a series of regencies until 1234, when Henry took over. His reign was marked with rebellions by barons.
Edward III
Edward III became king when he was 14 in 1327 and reigned for 50 years and 148 days. He was the monarch who first created the Duchy of Cornwall to provide his eldest son Edward with an income. He also introduced the Order of the Garter. It remains the highest British order of chivalry. Edward III's reign saw the beginning of the Hundred Years War against France.
For the Queen's Silver Jubilee in 1977 she travelled 56,000 miles around the world in celebration, journeying from Western Samoa, Australia and New Zealand to Tonga, Fiji, Tasmania, Papua New Guinea, Canada and the West Indies.
Street parties were held across the country and beacons lit in her honour and more than one million flocked to the Mall in London and the Queen travelled in a state coach with the Duke of Edinburgh to St Paul's Cathedral for service of thanksgiving.
Her 25-year anniversary fell on the same year as the Lib-Lab pact, the Grunwick picket clashes, punk rock and Red Rum winning the Grand National for a record third time.
It was also the year that the Queen, aged 51, became a grandmother for the first time and that The Sex Pistols released their anti-authoritarian hit God Save The Queen - which was banned on the airwaves.
1992 was the year of the Queen's 40th anniversary on the throne and her Ruby Jubilee.
It was better known as her "annus horribilis" - one of the most difficult periods of her reign – as her chidren's marriages were in tatters and public opinion turned against the Royals.
In an unusually personal address at a London Guildhall luncheon in November 1992 to mark her 40th year on the throne, the Queen told guests: "1992 is not a year on which I shall look back with undiluted pleasure."
She added: "In the words of one of my more sympathetic correspondents, it has turned out to be an 'Annus Horribilis'."
Commemorations for this jubilee were low key.
Just like the Silver Jubilee, people crowded into the Mall to celebrate the Queen's Golden Jubilee in 2002.
But the Buckingham Palace also hosted an unprecedented pop concert inside the grounds of Buckingham Palace for the Queen's 50th anniversary - the Party at the Palace.
More than 12,000 people watched Brian May, Sir Paul McCartney and Dame Edna Everage as the 76-year-old Queen watched on.
The Prince of Wales paid tribute to his mother on stage, called her "Mummy" and there was a finale of fireworks and a light show over the Palace.
But for most of the festivities held in June to mark the head of state's 60 years on the throne, the Queen was forced to celebrate without the Duke of Edinburgh.
Philip was hospitalised with a bladder infection after enduring a wet and windy trip down the Thames during the Diamond Jubilee River Pageant.
More than 1,000 boats including kayaks, Dunkirk ships and dragon boats had taken part, and the Queen, the Duke and senior royals travelled on an ornate royal barge, watched by more than 1.25 million spectators who lined the river banks despite the rain.
The Queen also opened up the Palace gardens to thousands of picnickers, who were presented with special Jubilee hampers.
A pop concert - staged because of the success of the Golden Jubilee show - was held in front of the Palace as well-wishers descended on the Mall once again.
Take That's Gary Barlow brought in acts such as Stevie Wonder, Kylie Minogue, and a hula hooping Grace Jones dressed in a PVC leotard. But Philip missed both the concert and a service of thanksgiving.
source: Evening Standard
| | |
| --- | --- |
| to make history | történelmet írni |
| Sapphire Jubilee | zafír jubileum (65 éves) |
| anniversary | évforduló |
| lung cancer | tüdőrák |
| unexpectedly | váratlanul |
| composed | higgadt, nyugodt |
| fate | sors |
| Accession Day | trónralépés napja |
| festivity | ünnepség |
| commemorative coin | emlékérme |
| Royal Mint | Királyi Pénzverde |
| denomination | címlet |
| uncirculated | forgalomba nem kerülő |
| imperial state crown | birodalmi korona |
| reverse | hátoldal |
| excerpt | részlet, idézet |
| longest reigning | leghosszabban uralkodó |
| great-great grandmother | üknagymama |
| to span | átívelni |
| figurehead | névleges vezető |
| vast | hatalmas |
| to mourn | gyászolni |
| Diamond Jubilee | gyémántjubileum |
| colony | gyarmat, kolónia |
| hereditary | örökletes |
| to abdicate | lemondani, leköszönni |
| assassination | merénylet |
| target | célpont |
| | |
| --- | --- |
| gunpowder | puskapor |
| plot | összeesküvés |
| Christendom | keresztény világ |
| rebellion | lázadás |
| baron | báró |
| duchy | hercegség |
| income | bevétel |
| Order of the Garter | térdszalagrend |
| order of chivalry | lovagi rend |
| beacon | örömtűz |
| in her honour | a tiszteletére |
| to flock | özönleni |
| to be banned | be van tiltva |
| to be in tatters | cafatokban van |
| undiluted | osztatlan |
| low key | visszafogott |
| unprecedented | korábban példa nélkül álló |
| to pay tribute | tiszteletet adni |
| bladder | húgyhólyag |
| infection | fertőzés |
| to endure | elviselni |
| Pageant | felvonulás, parádé |
| ornate | díszes |
| barge | bárka |
| despite | valami ellenére |
| hamper | (fedeles) kosár |
| leotard | (balett)trikó, mez |
Nehézségi szint:
középfok
Viktória királynő legendás alakja a brit történelemnek. Hosszú élete és uralkodása során sok érdekesség esett meg vele. Róla készítettünk egy leckét nektek interaktív teszttel.
Tovább
A 2015 októberi szám 9. oldalán található cikket hallgathatod meg itt.
Tovább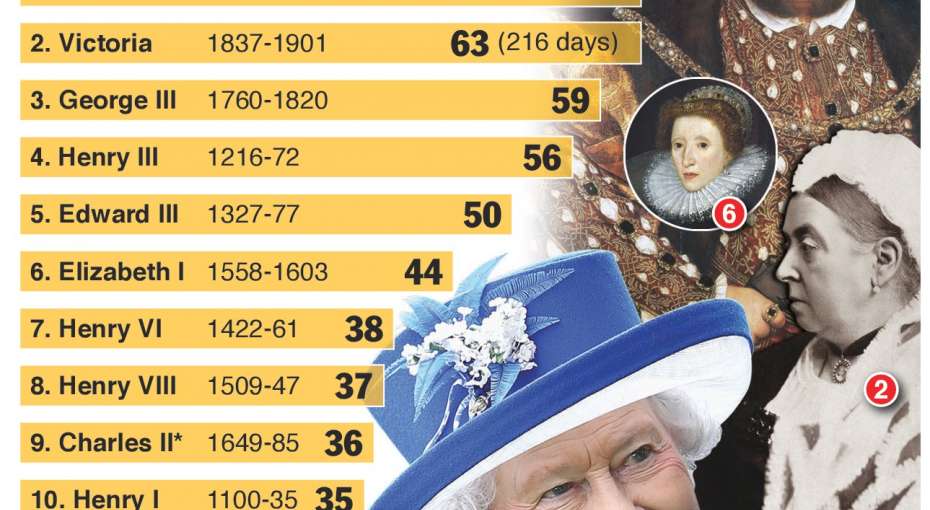 Rekordot állított fel II. Erzsébet: szeptember 9-én nagyjából este fél héttől már ő a leghosszabb ideig a trónon ülő brit uralkodó.
Tovább
Nézzük meg Erzsébet királynő ruhatárának titkait :)
Tovább