2018. július 7. és november 4. között Budapesten te is megnézheted a mára ikonná vált Frida Kahlo műveiből rendezett kiállítást!
Frida Kahlo suffered many traumas during her life but succeeded in becoming a recognized artist whose ground-breaking work was rediscovered in the 1970s and has reached a cult figure status. She painted many portraits, self-portraits, and works inspired by the nature and artefacts of Mexico. Her paintings often had strong autobiographical elements and she mixed realism with fantasy.
Beginnings
Magdalena Carmen Frida Kahlo y Calderón was born on July 6, 1907, in Coyoacán, Mexico. She was the 3rd of four daughters born to her parents, photographer Guillermo Kahlo and Matilde Calderón y González. Originally from Germany, Guillermo immigrated to Mexico in 1891.
Illness and Education
Frida contracted polio aged 6 which affected her right leg, its growth became stunted. This led to social isolation and she developed an introverted personality. After troubled early schooling – she was often bullied – she was enrolled in the prestigious National Preparatory School in Mexico City with the hopes of becoming a doctor but with no aspirations to be an artist yet. She was one of only 35 girls out of 2,000 pupils there.
She became a member of a political group with socialist-nationalist ideas who devoted themselves intensively to literature. Thanks to the Mural Movement in Mexico in which murals were painted on public buildings she met the famous mural artist Diego Rivera who was later to become her husband.
She changed her date of birth to coincide with the 1910 Mexican Revolution which she adored.
She enjoyed art from an early age and learnt to draw from her father's friend, printmaker Fernando Fernández and filled several notebooks with sketches.
The Accident
In 1925 she had an accident in a bus which collided with a tram – a handrail impaled her pelvis and she had broken ribs and legs – leaving her emotionally and physically scarred for life. Her physical injuries were life-threatening, and she was lucky to survive. She required months of hospital recovery.
In 1926, during her convalescence, she painted her first self-portrait, the beginning of a long series in which she charted the events of her life and her emotional reactions to them.
Marriage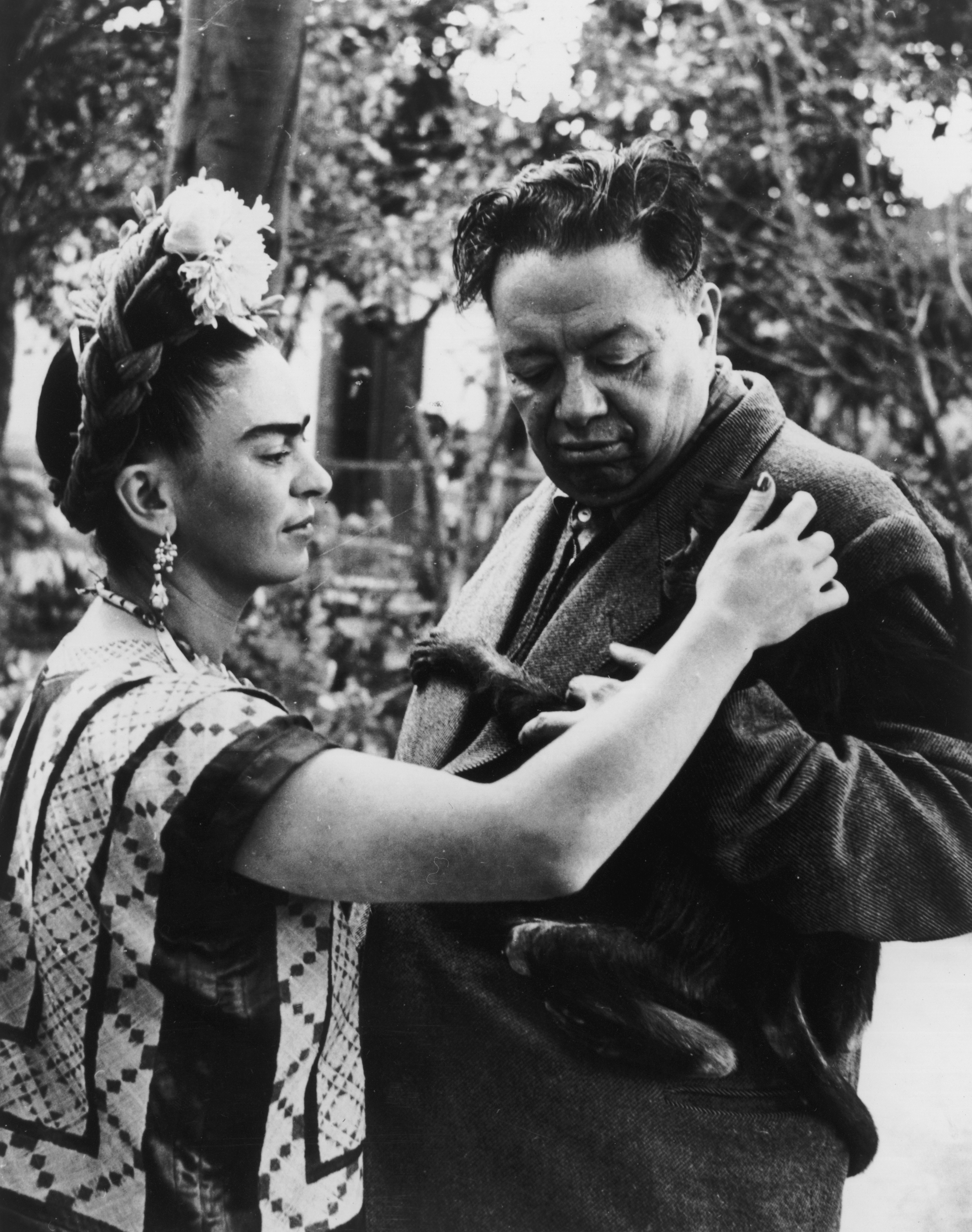 In 1928 a mutual friend introduced Rivera again to Frida, shortly after the break-up of his marriage. Sparks evidently flew and they were married the next March. Her father disapproved but eventually gave his blessing to her marrying 'this elephant', because he was wealthy enough to pay for her many surgeries her life would require. Diego was a large and not conventionally attractive man, but his personality was appealing because of his non-macho sensitive side in contrast to the Mexican standard. Quoting Frida Kahlo: "I suffered two grave accidents in my life. One in which a streetcar knocked me down… The other accident is Diego." Diego was twenty years her senior and she called him her baby.
Mexico to America: Artistic Inspiration
Owing to the Mexican regime, times were tough for leftist thinkers – so Diego did not seem to have a bright future in Mexico, but his reputation had proceeded him to the USA which was where the couple went.
1931 found them in New York for a retrospective exhibition of Modern Art. Frida at the time was regarded as nothing more than Diego's charming wife.
During a commission Diego painted in Detroit, Frida suffered a miscarriage and while recovering she painted a watershed piece – Miscarriage in Detroit – which was the start of the starkly honest self- portraits, she became known for. The size was small and known as retablos based on religious iconography found in Mexican churches. Except inside was not a saint but Frida herself. Diego described her work as having no precedent in the history of art.
After Detroit, a mural commission by the Capitalist Rockefeller Centre brought them to New York where a scandal ensued over Diego's refusal to remove a Communist figure he had inserted. The mural was eventually destroyed by a patron.
Troubled Relationship and Triumphant Shows
By 1935 they had returned to Mexico where Diego cut Frida to the quick by having an affair with her younger sister Cristina. In a reaction, Frida embarked on her own series of affairs which was a pattern that lasted their lifetime. Notably, the affair was with Leon Trotsky that time who was given asylum by the Mexican government after a petition by the couple, as he fled from Stalin's clutches.
The visiting French Surrealist André Breton also became infatuated with not only the alluring Frida – though she rejected his advances -, but her art, namely her most 'Surrealist' painting What the Water Gave Me and initiated her first major exhibition in New York at the Julian Levy Gallery in 1938. She sold half her paintings and Breton promised to follow it up with a show in Paris, but he obviously didn't bother to keep to his promise. Another Surrealist Marcel Duchamp came to her rescue, and the show opened six weeks later than scheduled.
The experience left her with a rather bitter taste in her mouth and eventually, she renounced Surrealism as a bunch of lunatics and disassociated her own art from it.
1940 began with the couple's divorce under mysterious circumstances. The period was an emotionally torn but a productive episode for her – she painted Self-Portrait with Cropped Hair in a defiant response to Diego's request for a divorce, in which she cut off her hair in self-punishment, perhaps for her failings.
Reunion and Recognition
The first assassination attempt on Trotsky's life, led Rivera to move to San Francisco prudently avoiding trouble. Frida followed him there and they soon remarried.
From 1944 onwards, the financial support and protection offered by Diego became invaluable since her deteriorating health required various surgeries which depleted her own unstable wealth. Her spine needed to be re-alignedand her leg also needed treatment, though some question whether she went to extreme lengths in pursuing multiple surgeries to distract Diego from his affairs. A stark painting from this time is The Broken Column which poignantly shows her physical and spiritual suffering like Christ, with a loincloth concealing her pelvic region suggesting her spirit was reaching for a higher realm than her physical reality. Physically she must have felt like she was disintegrating and becoming ever more fragile – this work has been referred to as Magic Realism, a popular movement at the time with writers like Gabriel García Márquez.
"Being the wife of Diego is the most marvellous thing in the world…. I let him play matrimony with other women. Diego is not anybody's husband and never will be, but he is a great comrade."
The war years were also spent together in a place built by the couple in Mexico called Anahuacalli which contained his collection of pre-Columbian idols and gave them a grounding they referred to as the 'House of the Gods'. She painted a spiritually harmonious and celebrated picture calledRoots about this.
In 1946 her reputation was continually growing. She was invited to exhibit in Boston, was awarded a prize and began teaching at La Esmeralda Art School in Mexico. Her Communist leanings also reached a fever pitch, though Diego had been expelled from the party for his associations with Trotsky.
Deterioration
By 1953, the combinatorial effects of pain, pain-killing drugs, and natural decline warped her vision and coordination so much that she was unable to paint well. However, her first solo exhibition was offered to her on home soil in Mexico and, against her doctor's advice, she attended. She had gangrene in her leg and was transported by ambulance and installed as almost a piece of live art herself in a bed at the show which was a triumph.
Shortly after the leg had to be amputated to the knee and this blow left her psychologically damaged, although she learnt to walk again with the help of a prosthetic limb and she even danced at some parties. The end when it came was in her sleep after writing in her diary –"'I hope the end is joyful – and I hope never to come back – Frida." Officially recorded as an embolism, many believed it to be suicide. She was an unforgettable personality who kept dancing through her life like a ballerina in a storm.
Vocabulary
| | |
| --- | --- |
| recognized | elismert |
| ground-breaking | úttörő |
| artefact | műtárgy |
| autobiographical | önéletrajzi |
| polio | gyermekbénulás |
| stunted | fejlődésben visszamaradt |
| introverted | befelé forduló, introvertált |
| aspiration | törekvés |
| to devote sy to sg | valaminek szentelni magukat |
| mural | falfestmény |
| to coincide | egybeesni |
| to collide | összeütközni |
| to impale | felnyársalni |
| pelvis | medence |
| rib | borda |
| scarred | sebzett |
| life-threatening | életveszélyes |
| convalescence | lábadozás, gyógyulás |
| spark | szikra |
| to give sy's blessings | áldását adni |
| conventionally | hagyományosan |
| grave | súlyos |
| reputation | hírnév |
| miscarriage | vetélés |
| starkly | brutálisan, borzasztóan |
| commission | megbízás |
| to ensue | keletkezni, eredni |
| | |
| --- | --- |
| patron | mecénás, védnök |
| to cut sy to the quick | mélyen megbántani |
| to embark on | nekikezdeni, belevágni |
| asylum | menedék |
| clutch | szorítás, szorongatás |
| to become infatuated with | beleszeretni, belebolondulni |
| alluring | csábító, vonzó |
| advances | közeledés |
| to renounce | megtagadni |
| lunatic | őrült |
| defiant | dacos, kihívó |
| self-punishment | önbüntetés |
| assassination | orvgyilkos merénylet |
| prudently | elővigyázatosan |
| deteriorating | romló |
| to deplete | kimeríteni |
| poignantly | szívbe markolóan |
| loincloth | ágyékkötő |
| to disintegrate | szétesni |
| grounding | alap |
| to be expelled | kirúgják, kirakják valahonnan |
| decline | hanyatlás |
| gangrene | üszkösödés |
| ambulance | mentőautó |
| prosthetic limb | művégtag |
| diary | napló |
| suicide | öngyilkosság |